GVB GIVA
Managing a public transport fleet
introduction
Unlocking vehicle data
In 2019, GVB, the Public Transport Operator of Amsterdam, made a significant architectural shift, transitioning from a proprietary monolithic system to an open microservices architecture called GIVA (Generic ICT Vehicle Architecture). Developed in partnership with Ximedes, the GIVA platform successfully implements a combination of the ITxPT architecture and VDV 301 open vehicle specifications. Since its production launch in 2019, GIVA has been running on all Diesel buses, Electric Buses, Trams, and M7 metro vehicles in Amsterdam. This collaboration with Ximedes has not only overcome integration challenges but also unlocked numerous benefits for GVB.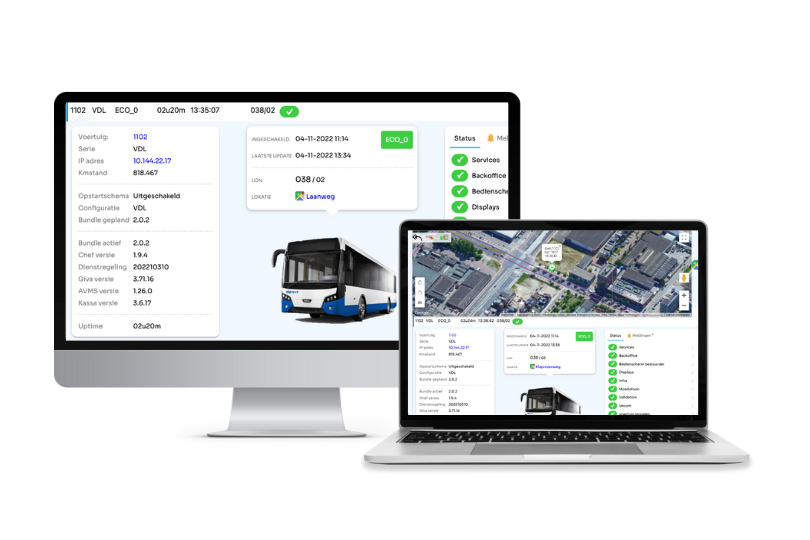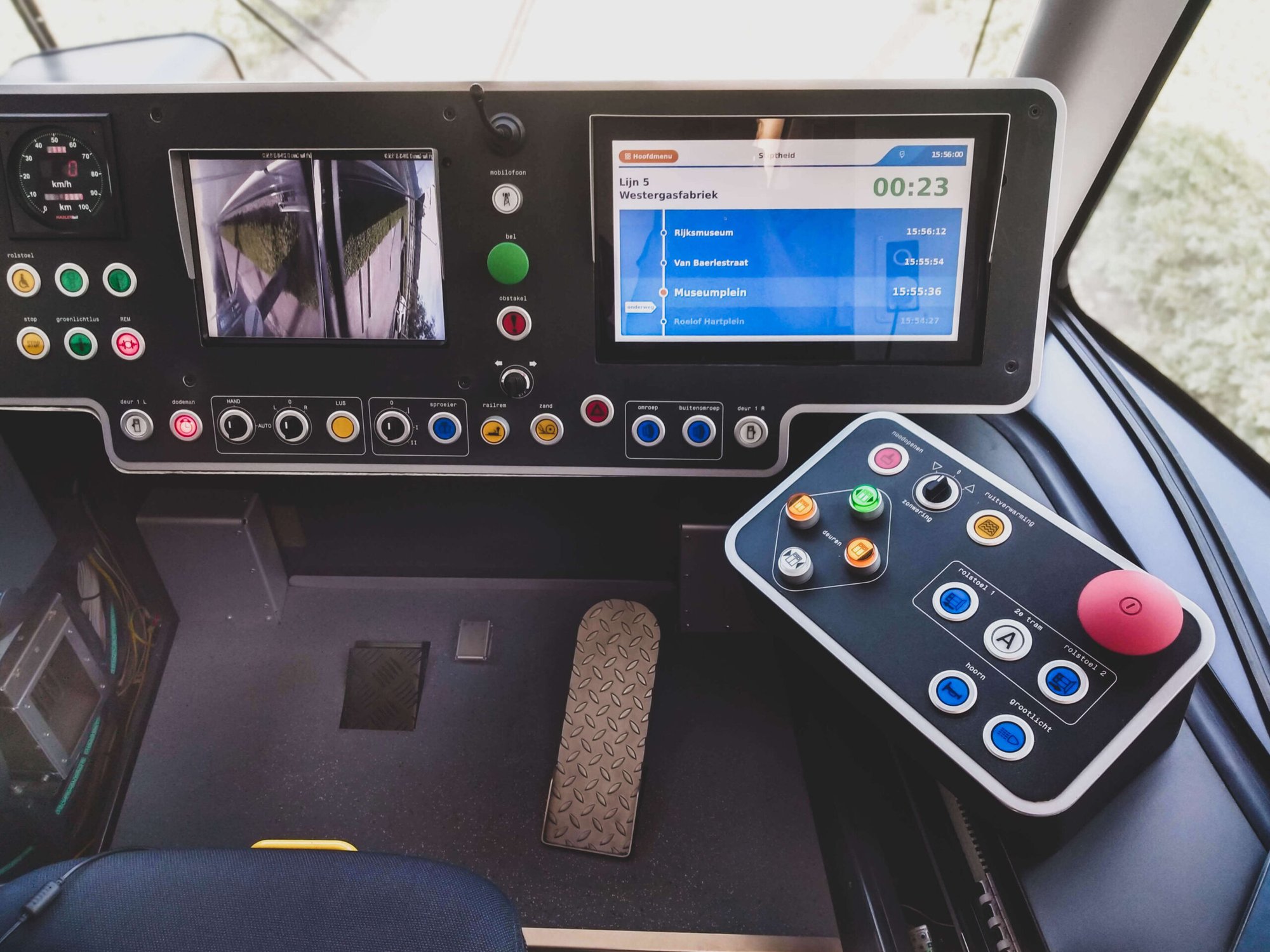 guiding the driver
The driver console
GVB's move towards a standardized open vehicle architecture had several reasons. By embracing an open architecture, GVB created a transparent market for suppliers, reduced vendor lock-ins, and gained flexibility for innovations and operational changes. The GIVA platform provides drivers and conductors a uniform Multi-Application Driver Terminal (MADT) across all vehicle modalities and series. The MADT provides access to trip information, punctuality data, central trip adjustments, navigation, mobile radio communication, announcements, external displays, parking space information, and much more. By using a single user interface for all vehicles, GVB is able to improve and roll out functional changes across the entire fleet and optimize their daily operations..
Integration
Freedom of choice
The standardization and exposure of vehicle services through open APIs and the use of DNS for service discovery have empowered GVB to migrate to new EMV (OVPay) and barcode-enabled validators, implement new external displays, integrate a parking planning system, and adopt the new NetEX timetable data format in an organized and controlled manner. Furthermore, this open approach has paved the way for exciting innovations such as measuring driving comfortability and energy efficiency, enabling automatic mileage registration, and utilizing vehicle state-of-charge information for charging planning. The benefits of microservices architecture were evident when GVB implemented the GIVA platform on the new M7 metro, with approximately 80% of microservices being reused, significantly reducing functional acceptance testing time. In fact, installing GIVA on a new Iveco Bus was completed in just one day, demonstrating the platform's efficiency.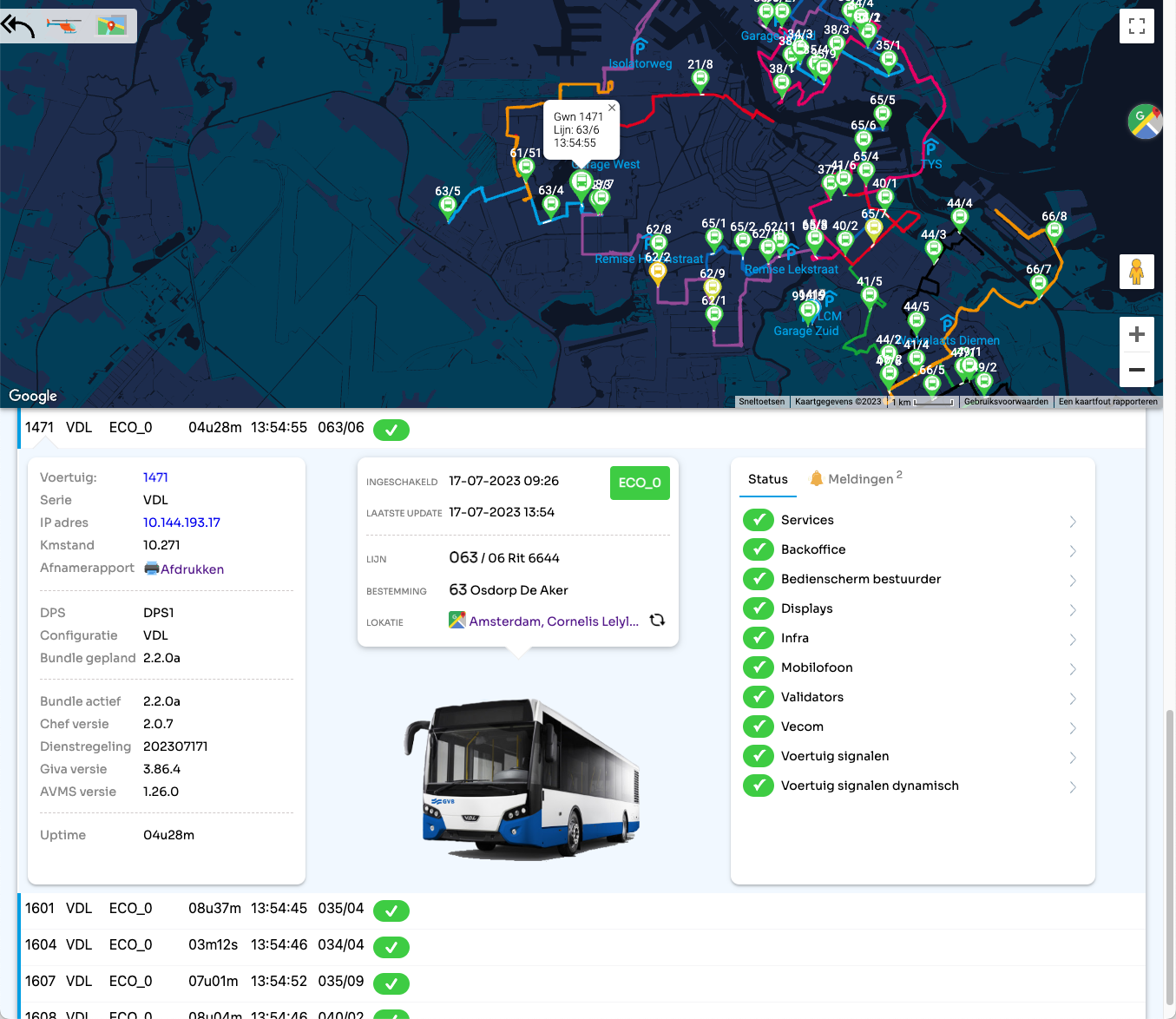 insights
Real-time fleet monitoring
The GIVA platform includes a Vehicle Monitoring Application (VMA) service which collects the status information from all software and hardware components on that vehicle. This information, along with contextual data such as location, trip and vehicle information, is sent to the Central Monitoring Application (CMA) backend server. The CMA provides a unified, real-time overview of all vehicles in GVB's fleet, eliminating the need for separate systems per brand or modality. It contains functionality for fleet monitoring, configuration management, remote command execution and software deployment across all vehicle modalities and series. The Traffic Control Center uses the CMA to assist drivers in addressing any issues encountered during operations. For proactive maintenance, GVB stores historical status information in a dedicated Business Intelligence system, facilitating comprehensive analysis of vehicles, components, and services over time.
working together
Application Lifecycle Management
Following the successful development and delivery of the Giva project, Ximedes has continued to collaborate closely with GVB's Giva operations team to ensure the platform's ongoing success. Our partnership involves an Application Lifecycle Management (ALM) approach, which includes specification, testing and development of new functionalities on the Giva platform, as well as frequent release deployments to the vehicles.
With the Giva ALM process, we work hand in hand with the GVB team to identify and define the requirements for new features and enhancements. Through rigorous testing and quality assurance, we ensure that these functionalities are robust and meet the highest standards. Our agile development methodology allows for efficient and iterative development cycles, facilitating quick feedback loops and timely delivery of updates to the Giva platform.
To ensure a smooth transition from development to production, we follow a well-defined release management process. This process includes thorough testing, validation, and staging of each release before deployment to the vehicles. By adhering to these best practices, we minimize risks and maintain the stability and reliability of the Giva platform throughout its lifecycle.
Through our collaborative ALM approach, Ximedes and GVB's Giva operations team continuously enhance the platform's capabilities and address evolving needs. By leveraging our expertise in software development and deep understanding of GVB's operational requirements, we remain dedicated to delivering a robust and cutting-edge solution that empowers GVB to achieve its goals efficiently and effectively.